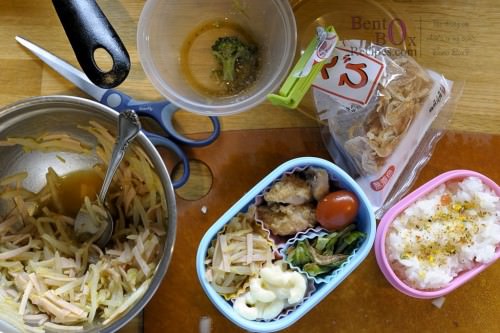 It's Wednesday in Japan and we have another colourful bento. There are a few rules in Japan when making a Bento, and one of those rules is to try and use 3 to 4 colours in the bento. The wife has the red tomato, the green cabbage mixed with those small shrimp. White is the macaroni and cheese and a daikon and bean sprouts salad. Plus she added an yellow dish my lemon chicken wings.
Lemon Chicken Wings
2 kg chicken wings
1/2 cup dry bread crumbs
1 egg beaten
4 tbsp. sesame seeds
1/3 cup lemon juice
3 tsp. sugar
4 tsp. soy sauce
1 tbsp. cornstarch
1 cup water
Oil for frying
1. Dip chicken in egg and then in breadcrumbs mixed with sesame seeds. Set aside
2. Mix lemon juice, soy sauce, sugar, cornstarch and water. Set aside
3. Deep fry the chicken wings in hot oil
4. Drain chicken wings on absorbent paper
5. Add cornstarch mixture in saucepan, bring to boiling consistency, stir until thicken and bubbly. Spoon over chicken wings and serve.