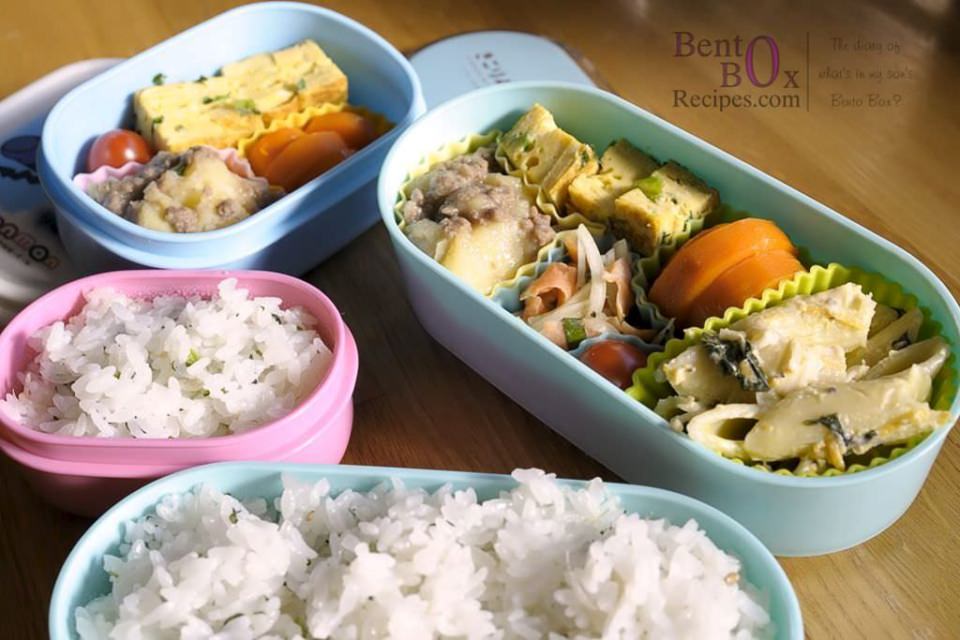 Here we have Mother and Son's bento, side by side on a sunny Wednesday morning. They are almost identical except for the pasta in mom's bento. I was in a good mood yesterday so made Hotate (帆立貝,Scallops) Penne with Chardonnay Cream Cheese Sauce. Chardonnay was changed to water with sake added. I did this for the little one.
Scallops Penne with Chardonnay Cream Cheese Sauce
1 pound (500 g) or more of large fresh sea scallops
1 cup (250mL) of flour
1 tbsp. oil
2 tbsp. butter Juice of Half a lime or lemon Salt and pepper Pasta Sauce
1 cups of Chardonnay
1 pound of penne
1 cup of cream cheese
2 tbsp. of Dijon mustard
1 onion chopped in small pieces
1 garlic clove crushed and diced
Heap of spinach chopped
Salt and pepper
1. Being a large pot of salted water to boil added penne and cook until almost tender.
2. Squeeze either lime or lemon juice on the scallops to clean them. Rinse with water.
3. Preheat your heaviest frying pan over medium heat for a few minutes
4. Toss the cleaned scallops in the flour and season with salt and pepper.
5. Pour oil in hot pan and swirl around until pan is covered. Add butter and swirl until butter has melted and starts to go golden brown.
6. Quickly add scallops one at a time evenly spaced. Adjust the heat high enough to just maintain the sizzling, but not to high to burn the butter. (this takes time to master, as use to burn the butter all the time.)
7. Turn once until they are evenly browned on both sides.
8. Remove from and place in dish and cover
9. Add onions and garlic to pan and cook. (the reason I use the same pan is for the flavour)
10. Drain the pasta and return to pot.
11. Toss in the cream cheese, mustard, onions and garlic and chardonnay.
12. Stir everything together until cream cheese melts and forms a smooth and creamy sauce.
13. Stir chopped spinach and scallops and season with salt and pepper.
14. Serve and Share
Cooking Tip
By washing all meats and seafood in lemon juice before cooking helps to clean and improve the taste. I am guessing this is a Trinidadian thing, as I have not heard or seen any of my none Trinidadian friends doing this.