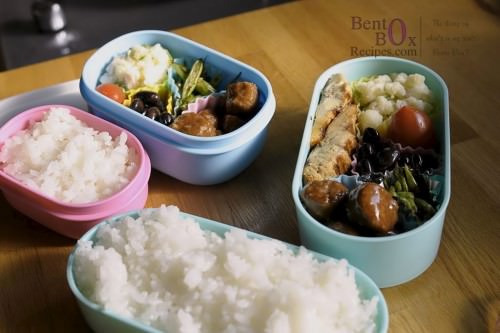 Have you ever felt that you might need a weekend to recover from the weekend? The craziness began on Saturday morning as the daycare had its summer festival. It was the first time seeing someone smash a watermelon, well it was my son. It's a summer game that kids play in Japan They try and smash the watermelon open and the first one wins. Since the kids could not smash the watermelon they then asked the mothers and fathers to help. They blindfolded the adults and spun around three times. At the end, one of the fathers smashed the poor watermelon. Sensei cut the melon and shared it around to everyone. I had 4-5 pieces as it was sweet.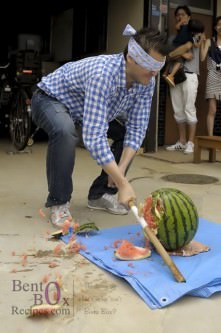 Once the daycare summer festival finished. The wife went out to meet her work friends and left the little one with me. She thought it might be better to keep the the little home, since he has been sick. The little one and I spend the afternoon playing and napping. Everyone had Grilled saba and rice for dinner around 1830. Was going to make Tempura Saba, but noticed we did not have enough oil. We finished dinner after 1900 and then went to the local Matsuri (祭, Japanese festival) that is held every year. It's nice to see everyone wearing yukata's for the festival and enjoying them selves by dancing, eating and drinking. It's something everyone should experience while in Japan.
Saturday was crazy, on Sunday my mother-in-law came over and we gave the little one a haircut. Once the ladies finished, the wife and I when shopping while my mother-in-law babysat. The weekend was fun, just tiring.
Almost forgot the recipe for the Grilled Saba.
2 filets of saba (mackerel)
1/2 tbsp. soy sauce
1/2 tbsp. sake
1/2 tbsp. grated ginger
1/2 tbsp. of oil
1. Mix the soy sauce, sake, oil and grated ginger in a plastic bag along with the Saba. Let it marinate for 10-15 minutes until it has absorbed almost all the of the marinade.
2. Grill the saba (mackerel) until its cooked.
For the miso and sesame sauce
5 tbsp. ground sesame
2 tbsp. soy sauce
2 tbsp. mirin
2 tbsp. finely chopped Japanese leek
1 tbsp. sugar
1 tbsp. miso
1 tbsp. sake
1 tbsp. chopped ginger
1 clove of chopped garlic
1 chopped chili pepper (this was left out for the little one)
1. Combine the ingredients for the miso and sesame sauce